Cette page n'est plus mise à jour. Depuis septembre 2016, Vincent a rejoint la Maison des Sciences Humaines de l'ULB.

---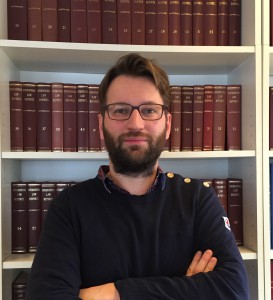 Vincent Chapaux holds a Master in Political Science/International relations (magna cum laude, ULB, 2002), a DES (LL.M. equivalent) in international law (Magna cum Laude, ULB, 2004) a DEA in Political Sciences (magna cum laude, ULB, 2007) and a Ph.D. in Political Sciences/international relations (ULB, 2011). Vincent has spent two research stays abroad. One at the New York University School of Law on a Fulbright Grant (2012-2013) and one at the Université du Québec à Montréal (2013). He is currently lecturer (chargé de cours) at the Law Faculty and teaches International dispute settlement (Règlement des différents internationaux – 4 ECTS) and General Theory of Public International Law (Théorie générale du droit international public – 5 ECTS).
Vincent Chapaux est titulaire d'une licence en Sciences Politiques/relations internationales (Grande distinction, ULB, 2002), un DES en droit international (Grande distinction, ULB, 2004) un DEA en Sciences Politiques (Grande Distinction 2007) et un doctorat en Sciences politiques/relations internationales (ULB 2011). Vincent a effectué deux séjours de recherche à l'étranger, le premier à la New York University School of Law avec l'aide d'une bourse Fulbright, le second à l'Université du Québec à Montréal (2013). Il est actuellement chargé de cours auprès de la faculté de droit et enseigne le Règlement des différents internationaux (4 ECTS) et la Théorie générale du droit international public (5 ECTS)
---
I – Research topics
Vincent is specialized both in international law and international relations. In international law, Vincent's main areas of expertise are Theory of International Law, the Decolonization of Western Sahara and International Animal Law. In international relations, Vincent specialized in the sociology of International relations. His Ph.D. thesis "How to rule with ideas – study of the notion of Failed State" focused on the discursive construction of the otherness. Other works include bourdieusian studies of the persistence of the western domination in international relations. Vincent also runs a blog on international animal law called InternationAnimals.
Vincent est spécisalisé à la fois en droit international et en relations internationales. En droit international, ses champs principaux d'expertise sont le théorie du droit international, la décolonisation du Sahara occidental et le droit international animal. En relations internationales, il est spécialisé dans la sociologie des relations internationales. Sa thèse de doctorat « Dominer par les idées – étude de la notion de Failed State » était centré sur la construction discursive de l'altérité. Ses travaux incluent aussi des études bourdieusiennes relatives à la persistence de la domination occidentale dans les relations internatonales. Il dirige également un blog consacré au droit international animal appelé InternationAnimals.
II – Main publications
« Is international Law Anthropocentric ? », forthcoming.
« Les rapports inter-espèces dans les films de science-fiction et dans le droit international terrien », in Corten, Olivier, Dubuisson, François, Du droit international au cinéma présentations et représentations du droit international dans les films et les séries télévisées, forthcoming.
« International Legal Theory: Haven't We Overestimated The Divide Between France And The United States? », Michigan Journal of International Law Emerging Scholarship, 2014, Vol. 2, pp. 101 à 113.
« L'organisation de l'international par l'occidental : quelques réflexions sur la discrimination par le diplôme au sein des organisations internationales», Volume 33, numéro 1, 2014, p. 77-98.
Chapaux, Vincent (dir.), Sahara occidental. Existe-t-il des recours judiciaires pour les peuples sous domination étrangère ?/Western Sahara ; Which Legal Remedies for peoples under foreign domination ?, Bruxelles, Bruylant , 2010, 138 p.
Chapaux, Vincent, Arts, Karin, Pinto Leite Pedro (éd.), Le droit international et la question du Sahara occidental, Porto, IPJET, 2009, 352 p.
Chapaux, Vincent, Pieret, Julien, Schaus, Annemie (éd.), Cinquante ans d'application de la convention européenne des droits de l'Homme en Belgique. Entre ombres et lumières, Bruxelles, Bruylant, 2008, 426 p.
---
Coordonnées
Vincent CHAPAUX
Faculté de droit
vchapaux@ulb.ac.be
Det händer så, att för varje högkvalitativ medicinsk produkt med ett välkänt varumärke och bevisad effektivitet, kan du alltid hitta en kopia som är billigare på grund av den enorma bristen på kvalitet. Det värsta är att det mestadels är ineffektivt eller till och med skadligt. Svenska apotek säljer cialis, vilket garanterar att produkten är original och säker?